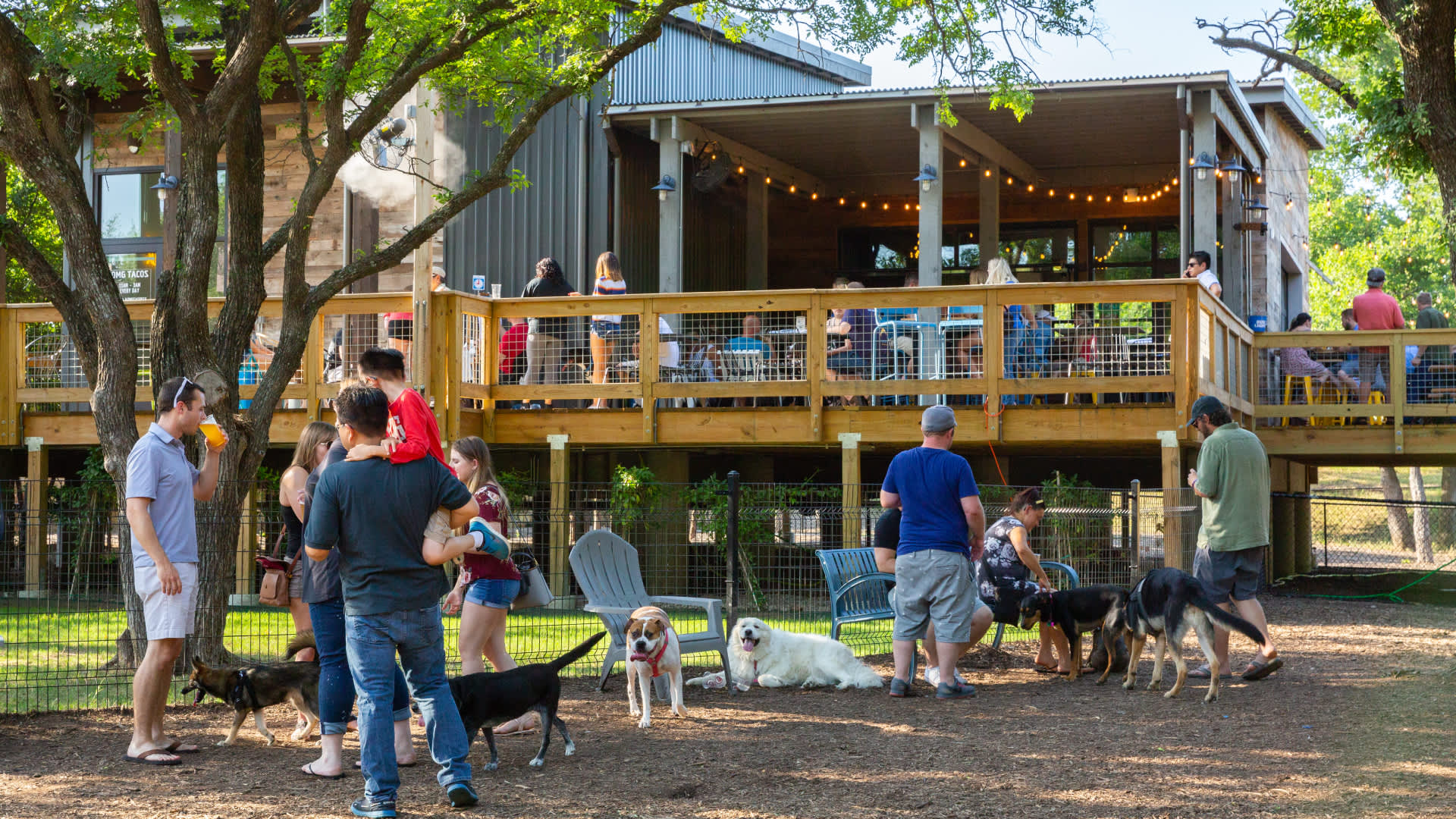 Are you a dog owner looking for places to enjoy some time outside with your four legged friends? Check out these local area dog parks that offer a great place to enjoy playtime for everyone.
White Rock Creek Dog Park
8000 E Mockingbird Lane
Dallas, TX 75334
Neighborhood: Lakewood
This spacious park is surrounded by scenic views of the lake, and cyclist riding by overlooking all the activity. With several acres of fenced in playgrounds, an animal friendly group greets owners and pets with a few pets for adoption upon entering. The grass field is clean, with all sorts of dogs and families commingling for good fun. With plenty of trash receptacles throughout, makes it easy to pick up after your pet. Park benches, an adjacent walking trail, and a breeze coming from the lake makes for a pleasurable experience. Even though the park was busy, there is plenty of room for dogs and their owners to roam about freely. It also includes a separate fenced in area for smaller dogs to play, in case your little ones would prefer to mix amongst their own size.
Dog Park at Jack Carter
6500 Roundrock Trail
Plano, TX 75023
This large grassy field comes with a biking and walking trail adjacent to the dog park. Trees and foliage surrounding the fence, gives a feeling of a private playground. Picnic tables and park benches are available. Plastic red fire hydrants throughout add a bit of fun to this friendly park. Folks enter the park by crossing over a quaint wooden bridge covering a stream, leading to the playground. If a bit of exercise is what you are looking for, take a walk along the Bluebonnet Trail, then go unleashed for some one on one time with other dogs.
Bark Park in Deep Ellum
2530 Commerce Street
Dallas, TX 75226
For the urbanite, Bark Park located in Deep Ellum offers an ample grassy play area. A newly upgraded area covered in mulch has been added to keep the muddy areas covered and clean. The park also includes an agility set for the more active pup to run through and play on. This is a great option for city dwellers without a backyard for dogs to run and have some outside activities. There is also a doggy vending machine with toys, and treats to indulge your furry friends.
Also included are separate "holding stations" to unleash your pets before letting them out onto each play area.
All three have clearly marked signs with rules for each park. These public parks are all intended for well-socialized dogs, and encourage their owners to keep an eye on your pet while interacting with others on the playground. With the weather getting warmer, it's a great way to spend some quality time with your favorite pooch.